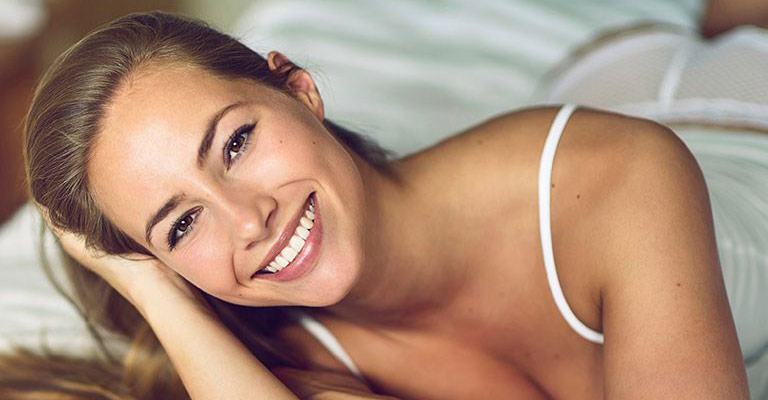 Receiving a diagnosis of breast cancer is devastating. It's normal to feel lost, scared, and concerned not only about the cancer but how your breasts will look after surgery. Fortunately, you're not alone. Nearly three million other U.S. women are breast cancer survivors and many of them have undergone reconstructive procedures as part of their healing.
Dr. Comizio is a highly recommended plastic surgeon in New Jersey who understands that breast reconstruction is about restoring your sense of wholeness. Her training at four Ivy-league universities enables her to assess the best option for her patients and perform procedures with unparalleled surgical skill. While Dr. Comizio maintains high standards of surgical care, she never forgets the emotional needs of her patients. Dr. Comizio fills the role of friend, confidant, and plastic surgeon to extend comfort and support to Morristown, New Jersey patients on their road to recovery.
What Will Happen After I'm Diagnosed With Breast Cancer?
After receiving your diagnosis, you will have several decisions to make regarding treatment. Some Morristown, New Jersey women opt to undergo a bilateral mastectomy, removing all of their breast tissue to lower the risk of their cancer returning in their breast. Other women choose to combine breast reduction surgery with lumpectomy. While these treatments have become increasingly common and effective, they also raise questions about:
Options for breast reconstruction surgery.
How your breasts will look after reconstruction.
Time needed for recovery from breast cancer and reconstruction.
These questions will make up a large part of the conversation during your initial visit and help Dr. Comizio work with you to select the right procedure.
"Dr. Renee Comizio is wonderful. If you need a plastic surgeon she is the one, she made the whole scary experience of reconstructive surgery after breast cancer no problem…" – Click Here To Read More Reviews
What Will Happen During My Breast Reconstruction Consultation?
Every woman wants something different from her breast reconstruction surgery. Some want to restore their breasts to how they were before cancer, while others take the opportunity to fulfill their desire for a different shape and size. Dr. Comizio begins each consultation by focusing on what you want and reviewing:
Detailed medical and family history
Lifestyle and its effect on your breast reconstruction
Current and goal cup size
Aspects of your breasts you'd like to change
Throughout your visit, Dr. Comizio will provide you with guidance and information about options that can achieve the goals that you want while minimizing the risk of complications associated with certain breast reconstruction surgeries.
Options for Breast Reconstruction
In the last few decades several new procedures have been introduced to the field of breast reconstruction. While this has benefited Morristown, New Jersey patients, it has also made the decisions related to treatment more challenging. Dr. Comizio emphasizes the importance of finding the right procedure for you based on:
Type of breast reconstruction needed. There may be different options for bilateral reconstructions versus unilateral.
Risks involved. Some breast reconstruction procedures carry higher risks for certain patients than others.
Goal of reconstruction. Certain breast reconstruction procedures are more successful than others in achieving aesthetic goals.
At the end of your consultation Dr. Comizio will have a clear idea of what you hope to achieve with your breast reconstruction surgery. She can then provide you with information you need to weigh your options and leave you with a result that makes you happy and confident.
Autogenous Flap Surgery
During flap-based breast reconstruction, tissue is removed from a donor site (usually the stomach or back) and reattached to your breast or breasts. While many Morristown, New Jersey patients like the idea of replacing their breast tissue with tissue from another part of their body, there are a number of risks that come with this procedure. These include:
One or more donor sites that need more time to heal after surgery.
Size limited by availability of donor tissue.
Greater risk of complications related to multiple surgical sites.
During your initial consultation, Dr. Comizio will elaborate on whether you are a good candidate for flap breast reconstruction or if you would benefit from implant-based reconstruction.
Implant Based Breast Reconstruction
As the most common and preferred method of breast reconstruction, implant-based reconstruction is a versatile procedure that allows you to change the size, shape, and position of your breasts while achieving natural-looking results. Although there are risks associated with this procedure, many patients and plastic surgeons favor it because:
There is only one surgical site rather than two.
Implants come in a variety of shapes, sizes, and projections to provide you what you want.
Surgery and recovery are shorter.
Because many women in New Jersey undergo bilateral breast cancer surgery, implant-based reconstruction offers the safest and least invasive way to restore symmetry and size to your breasts.
Immediate vs. Delayed Breast Reconstruction
Both immediate and delayed breast reconstruction are viable options for Morristown, New Jersey patients who want to restore the appearance of their breasts. In most cases, Dr. Comizio is able to begin breast reconstruction during the same surgery that the breast surgeon removes cancer or prophylactically removes the breasts.
If you choose immediate breast reconstruction, you will have tissue expanders placed during the initial surgery. Once the tissue expanders have created enough room in the breast pocket, Dr. Comizio will replace the tissue expanders with breast implants that match the size and fullness that you discussed at your initial consultation.
For patients in New Jersey who decide to delay breast reconstruction, Dr. Comizio will place the tissue expander or flap after you have healed from breast cancer surgery. Patients can have this surgery anytime after the cancer has been removed, even years later.